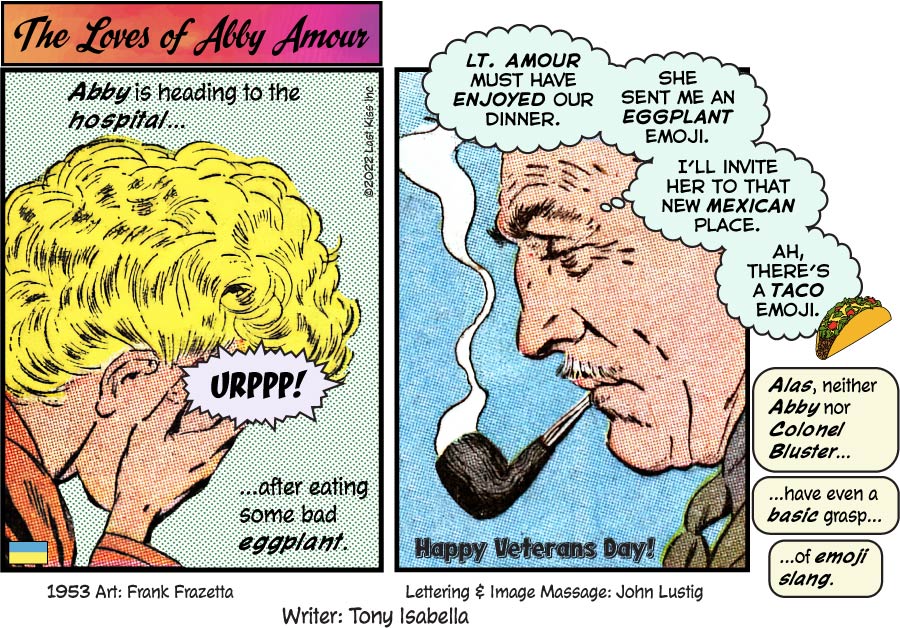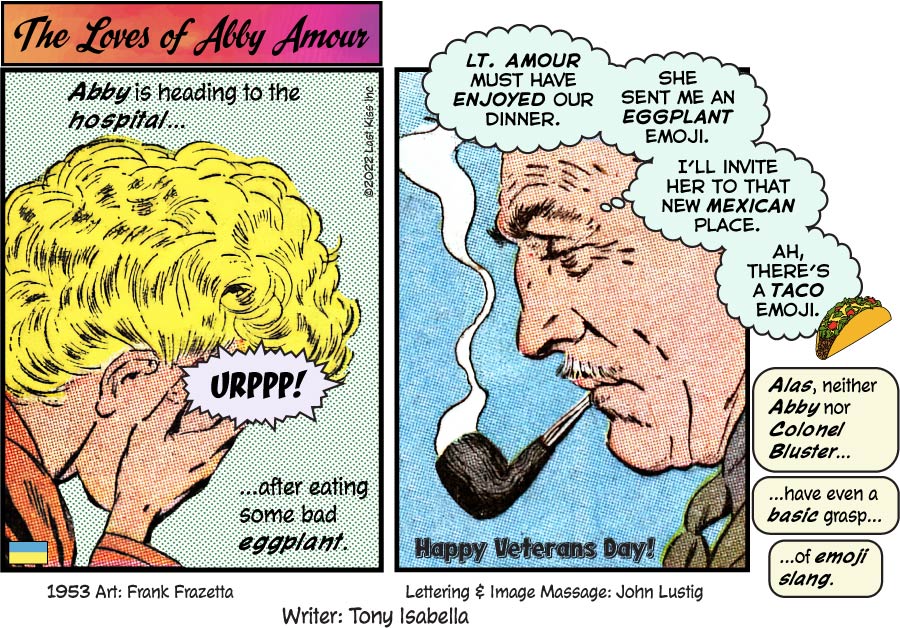 Happy Veteran's Day!
Original Vintage Art & Text
The Abby Amour miniseries runs every Friday. Dialogue by Tony Isabella. If you've missed any episodes, no problem. You can catch them here:
Transcript:
BANNER LOGO: The Loves of Abby Amour
PANEL 1:
SCENE: Abby Amour has her hand over her face and doesn't feel well.
CAPTION: Abby is heading to the hospital…after eating some bad eggplant.
SOUND AFFECT: URPPP!
PANEL 2:
SCENE: Colonel Bluster is smoking a pipe and is lost in thought.
COL. BLUSTER thinks: Lt. Amour must have enjoyed our dinner. She sent me an eggplant emoji. I'll invite her to that new Mexican place. Ah, there's a taco emoji.
(We see a taco in his thought balloon.)
CAPTION: Alas, neither Abby nor Colonel Bluster…have even a basic grasp…of emoji slang.
1953 Art: Frank Frazetta Lettering & Image Massage: John Lustig
Writer: Tony Isabella
Personal Love 24_6 16_3_Woman
↓ Transcript
BANNER LOGO: The Loves of Abby Amour

PANEL 1:

SCENE: Abby Amour has her hand over her face and doesn't feel well.

CAPTION: Abby is heading to the hospital...after eating some bad eggplant.

SOUND AFFECT: URPPP!

PANEL 2:

SCENE: Colonel Bluster is smoking a pipe and is lost in thought.

COL. BLUSTER thinks: Lt. Amour must have enjoyed our dinner. She sent me an eggplant emoji. I'll invite her to that new Mexican place. Ah, there's a taco emoji.

(We see a taco in his thought balloon.)

CAPTION: Alas, neither Abby nor Colonel Bluster...have even a basic grasp...of emoji slang.

1953 Art: Frank Frazetta Lettering & Image Massage: John Lustig
Writer: Tony Isabella

Personal Love 24_6 16_3_Woman