Licensing/Contact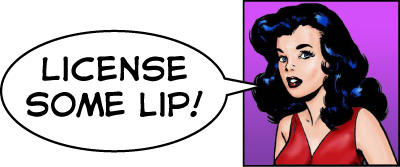 Licensing questions or comments? Contact John Lustig.
Phone: 206-525-6257
About John Lustig:
In addition to Last Kiss, John Lustig has written outrageously silly comics for Disney, Marvel, Viz and more.
Before comics ruined his brain, Lustig was an award-winning newspaper reporter and columnist–covering everything from mass murders to school lunch menus. (Thankfully, never in the same article.)
In 2001, Cartoonist Northwest presented Lustig with its highest award, the Golden Toonie. Lustig lives in Seattle with his wife and a giant, insane cat.
Last Kiss:
Pairing vintage comic art with hilarious, new dialog by Disney veteran writer John Lustig, Last Kiss revels in the absurdities of love, lust and 'life with lip.'
The series originated when Lustig bought the publishing rights to a romance comic book series from the 50's and 60's, and started rewriting the stories for fun. Since then, the re-dialogued comics have been a popular feature in newspapers, magazines, comic books and greeting cards.