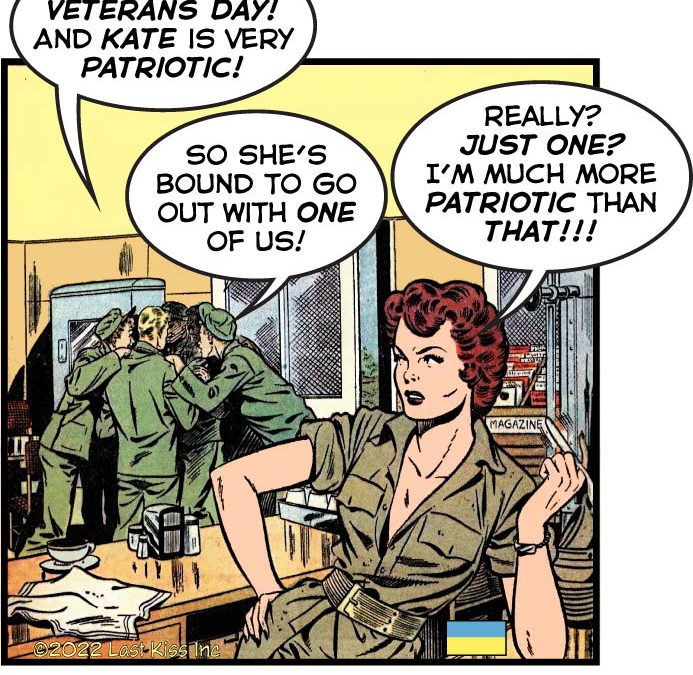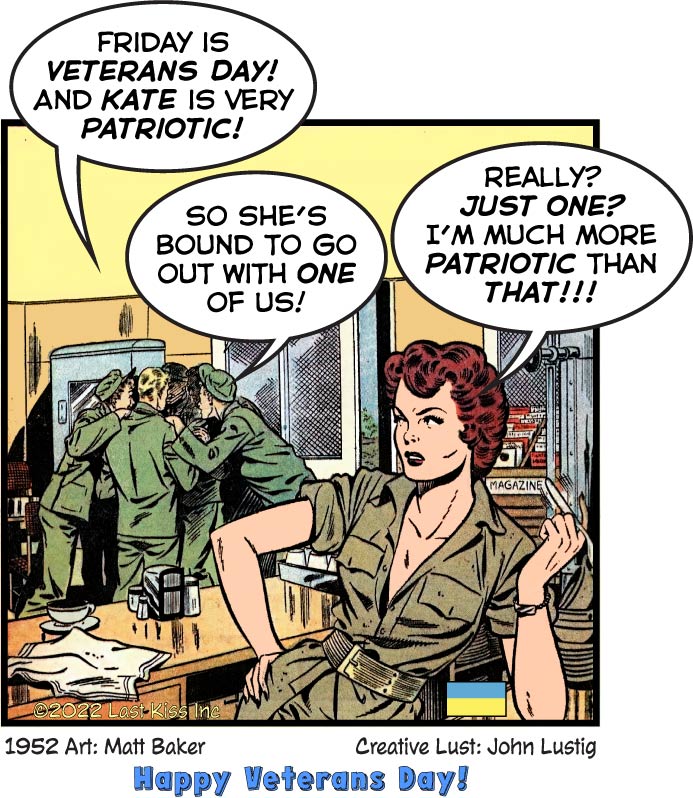 Why—you might ask–am I running this comic today instead of on Veterans Day?
Great question. Thank you, dear fictional reader, s-o-o-o much for asking! You are the best!
My answer: You silly ninny! Everyone knows Friday's the day I post a new episode of The Loves of Abby Amour. Sure, it's a military comic. But it doesn't have a a Veterans Day theme.
Thus I'm posting my actual VD tribute today to celebrate tomorrow. So be sure to come back tomorrow and read it again!
Original Vintage Art & Text
Transcript:
SCENE: Several U.S. soldier in uniform are huddled talking as Kate (also in uniform) looks on.
SOLDIER #1: Friday is Veterans Day! And Kate is very patriotic!
SOLDIER #2: So she's bound to go out with one of us!
KATE: Really? Just one? I'm much more patriotic than that!!!
1952 Art: Matt Baker Creative Lust: John Lustig
Happy Veterans Day!
Canteen Kate_Candid Cutie_1_1
↓ Transcript
SCENE: Several U.S. soldier in uniform are huddled talking as Kate (also in uniform) looks on.

SOLDIER #1: Friday is Veterans Day! And Kate is very patriotic!

SOLDIER #2: So she's bound to go out with one of us!

KATE: Really? Just one? I'm much more patriotic than that!!!

1952 Art: Matt Baker Creative Lust: John Lustig

Happy Veterans Day!

Canteen Kate_Candid Cutie_1_1