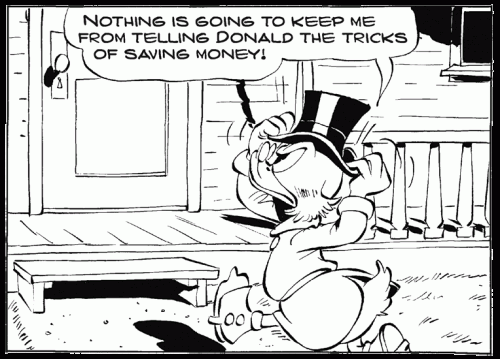 Although I spend most of my time doing Last Kiss, I still write an occasional Disney comic. The latest is something special. The first seven pages of "The Duck Who Came to Dinner" was scripted decades ago by the late and very great Carl Barks.
I purchased the unpublished manuscript several years ago during an eBay auction that was held on behalf of the Barks Estate. My publisher Egmont (Disney's main comics licensee for northern Europe) gave me the go-ahead to write the remaining three pages of the 10-page Uncle Scrooge story.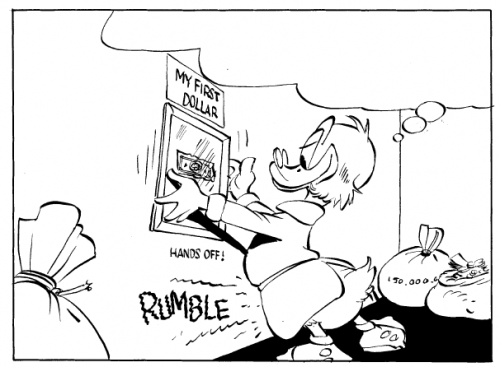 In the tale, Scrooge goes to Donald Duck's house on the pretext that he wants to tell Donald the story of how he (Scrooge) earned his first dollar. The idea is that it'll inspire Donald to be frugal.
The reality is that Scrooge is conveniently showing up at dinner time to mooch a free meal. Donald has already heard the story many times and is sick of it–and Scrooge's meal-mooching ways. So Donald (with the help of Huey, Dewey and Louie) spend the rest of the story trying to lure Scrooge outside and lock him out.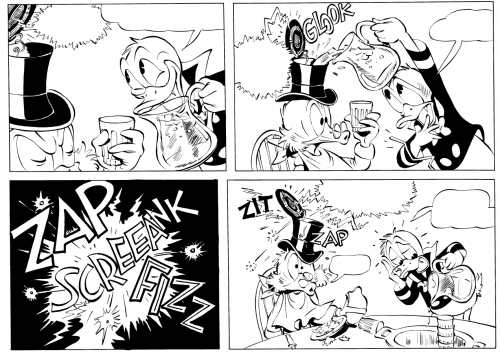 "The Duck Who Came to Dinner" was drawn by the one of my favorite Disney artists Daan Jippes. Drawing in his "Barks" mode, Daan did his usual outstanding job.
It was published in Scandinavia in October and will probably show up in a number of other countries soon. Hopefully, it'll show up here in the U.S. one of these days too.
For more about the story and additional scans of the lettered art, check out Joakim Gunnarsson's Blog.
(All artwork ©2011 The Walt Disney Company)