Who's the best cartoonist in the Northwest?
Join me on May 5, 2012 and find out when cartoonists, animators and illustrators gather for the 21st Annual Toonie Awards. The Seattle banquet—which is open to the public—will include live cartoon-themed music by the Amazing Martin Brothers and feature webcomics legend Scott Kurtz as the guest speaker.
In addition to the Golden Toonie for the Cartoonist of the Year, awards will be given out in categories such as comic books, comic strips, editorial cartoons and best publisher. In addition to a raffle and silent auction, the event includes a contest where diners will be given modeling clay and can create clay figures for a prize.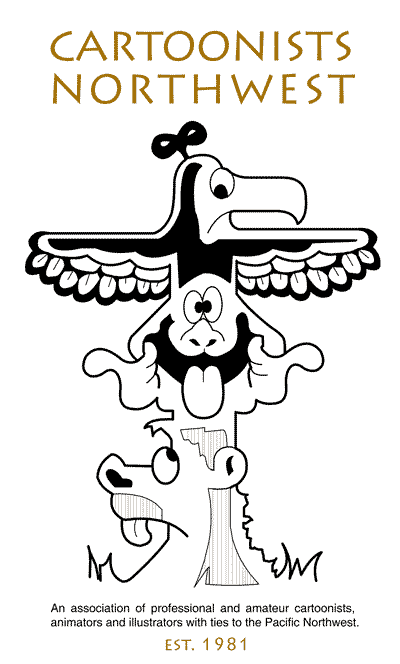 Put on each year by Cartoonists Northwest, the Toonies has awarded its highest honor (the Golden Toonie) to such notable Northwest comics creators as Peter Bagge (Hate); Brian Basset (Red and Rover), Ellen Forney (Monkey Food); Roberta Gregory (Naughty Bits); David Horsey (Seattle P.I.); Lynn Johnston (For Better or For Worse); Pat Moriarity (Big Mouth); Sherry Flenniken (Trots and Bonnie); and Jim Woodring (The Book of Jim).
Less notable Northwest comics creators who've won a Golden Toonie: Me
Established in 1981, Cartoonists Northwest is an association of professional and amateur cartoonists who
meet monthly to network, collaborate, and promote community among local artists.
Guest Speaker Scott Kurtz is the writer/artist of the phenomenally popular webcomic PvP, also known as
Player vs Player. The comic chronicles the misadventures of the employees of a fictional video game
magazine company. The PvP website receives more than 100,000 unique visitors a day.
Winner of both the Eisner and Harvey awards, Kurtz will be speaking about his career "as a cartoonist who
used web distribution" to reach success. There will be a question and answer session at the end of his talk.
Open to all cartoonists (and cartoon lovers), the Toonies is being held Saturday, May 5, at Ivar's Salmon
House, 401 N.E. Northlake Way, Seattle. Social hour is at 6 p.m. Awards ceremonies at 7 p.m.
Dinners choices are: $40 Four-Cheese Ravioli (sun-dried tomato with cream sauce); $45 Rotisserie-Roasted Half Chicken (marinated with rosemary & olive oil); and $50 Alder-Grilled Coho Salmon (brushed with herb-infused olive oil.) Reservations can be made via e-mail at CartoonistsNW@aol.com or calling 206 369.2123.
Payments can be made at the door at the above prices if you've made a reservation at least 24-hours beforehand. Without a reservation, add $5 when paying at the door.