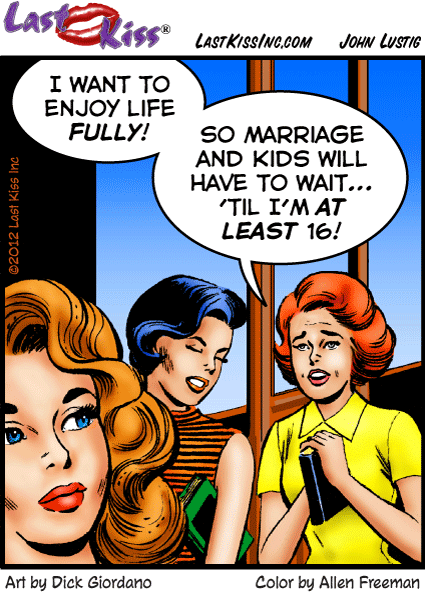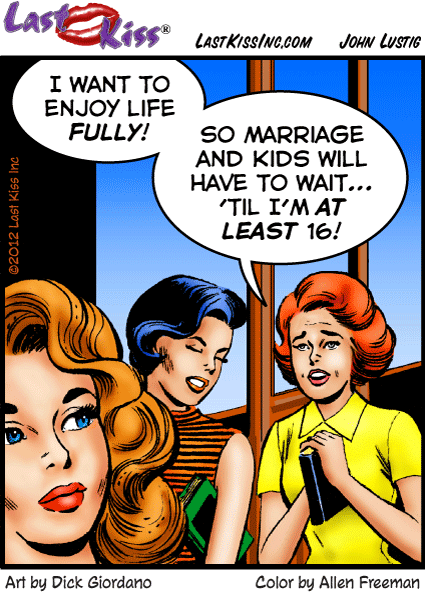 The original art (see below) for this gag comes from "My Secret" in First Kiss #27; It features a girl (the blonde in the panel below) who appears to be much older than her real age—14.
Things quickly spin out of control when she skips a couple of grades and ends up in a relationship which is clearly too mature for a 14-year-old!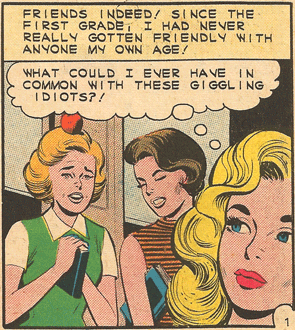 Note for Giordano Fans:
Unfortunately, Charlton's photostat for this panel was so poor that it was unusable. So I ended up scanning from the printed comic book.
Consequently, some of Dick Giordano's fine line work was lost and had to be touched up here and there by my-gotta-get-it-done-now, but-definitely-not-an-artist last choice: me.
This is something I try to avoid, but sometimes happens when lines drop out and deadlines loom.
So you're not getting pure Giordano here—which is a pity because Dick was my favorite Charlton romance artist.
↓ Transcript
SCENE: Young teen-age girl talking to two friends.

GIRL: I want to enjoy life fully! So marriage and kids will have to wait…'til I'm at least 16!

Art by Dick Giordano