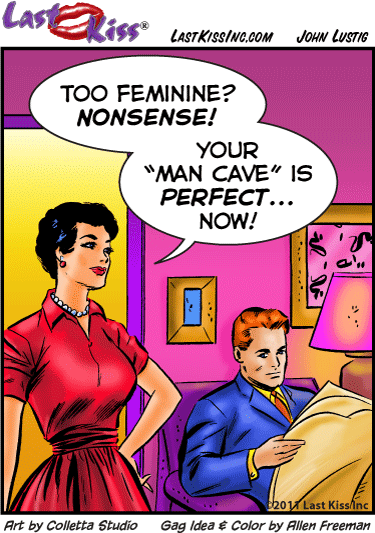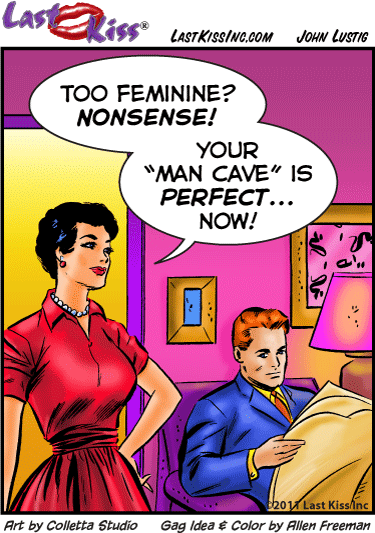 Although I write 99.9937 percent of the Last Kiss gags, I occasionally get a suggestion from someone that sparks a great line of dialog. In this case, it came from colorist Allen Freeman.
I asked Allen to color this art before I had a gag in mind. Normally, I'm somewhere between pleased and ecstatic with Allen's color choices. But this time I was–well, flabbergasted. What the $#@$ was he thinking?
So I called Allen and the conversation went something like this:
ME: Allen, that room is really pink. And purple. And…oh, my god it's so…so…pink!
ALLEN: Yup.
ME: Don't you think it's a little…uh, too pink?
ALLEN: I was thinking that maybe that the wife picked the colors and that the gag could be the husband's reaction.
ME: <Pause.> Yeah, that might work.
Thanks, Allen! (Hey, do you think it should be a little pinker?)
↓ Transcript
SCENE: Man is sitting an armchair in a very pink room. He looks very uncomfortable. His wife looks around the room and seems very satisfied.

WOMAN: Too feminine? Nonsense! Your "man cave" is perfect...now!

Art by Colletta Studio
Gag Idea & Color by Allen Freeman