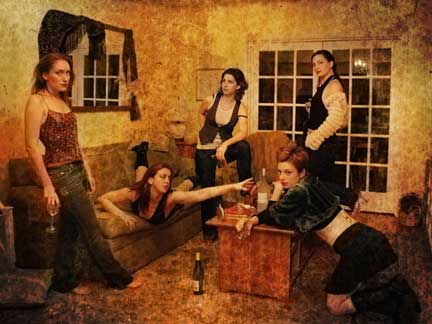 If you're in the NYC area, you can reap the rewards of being a Last Kiss fan and receive:  a discount to a fun comedy, free Last Kiss cards and possibly win a Last Kiss door prize!
The play is THE DYSFUNCTIONAL GUIDE TO HOME PERFECTION – MARITAL BLISS – AND PASSIONATE HOT ROMANCE being performed at The Red Room, 85 E. 4th St., NY, NY starting Feb. 27 and ending March 7.
I haven't seen the play, but it sounds very Last Kiss-ish and it should be a hoot. It's being performed by the ladies of A Dysfunctional Theatre Company Production who: "take a comic & critical look at romance through the ages. Playing a variety of roles, rocketing through time, and ultimately discovering that when it comes to love, the more things change, the more they stay the same. A must see for everyone who's in love, out of love or who just happens to be in the East Village looking for a good time"
Everyone who attends the play will receive three free Last Kiss notecards and be eligible to win a door prize (Last Kiss tote bags or mousepads depending on your luck.) Use the code "KISS" and tickets are $3 off–only $12 apiece by calling Smarttix at 212-868-4444 or at www.FRIGIDnewyork.info
Yes, this is almost too cool to be true!