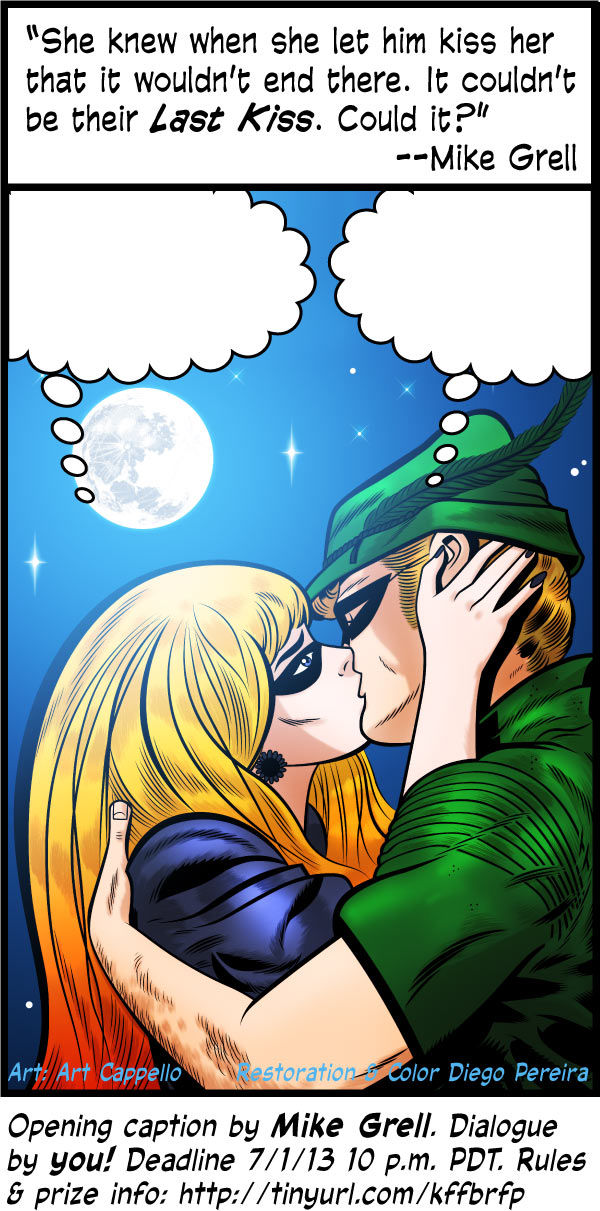 Earlier this week, I posted the current Couple-Up caption contest and some people "made an ass out of you and me." In short, they a-s-s-u-m-e-d!
They looked at the contest art and went "Ah ha! That's Black Canary and Green Arrow!"
That's okay because I a-s-s-u-m-e-d they would.
After all, the characters look like Black Canary and Green Arrow. And Mike Grell—who contributed the opening contest caption—is famous for (among other things) writing and drawing Black Canary and Green Arrow.
But guess what—they're not Black Canary and Green Arrow.
The art is actually a recreation—by Diego Jourdan Pereira—of the cover of Secret Romance #21 from 1972 . When my original guest writer had to drop out, Diego suggested the obvious: Mike Grell!
As soon as Diego said it, I went—of course! Mike's the perfect choice!
Mike didn't even blink when I approached him at this year's Emerald City Comicon. While I was still timidly explaining what I wanted, Mike started writing on the back of a card. By the time I finished explaining, Mike had finished writing the caption.
Now, that's fast!
(Speaking of fast, hurry up and enter the contest before it ends July 1, 10 p.m. PDT.
—John Lustig