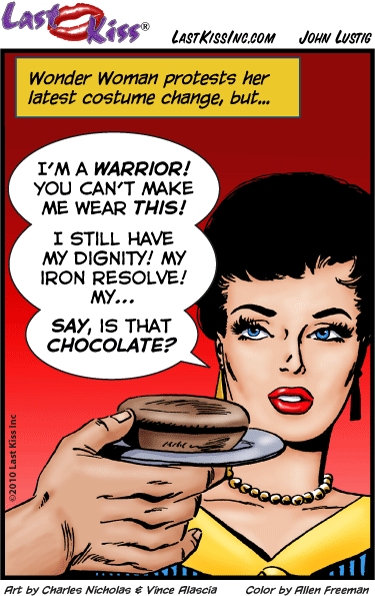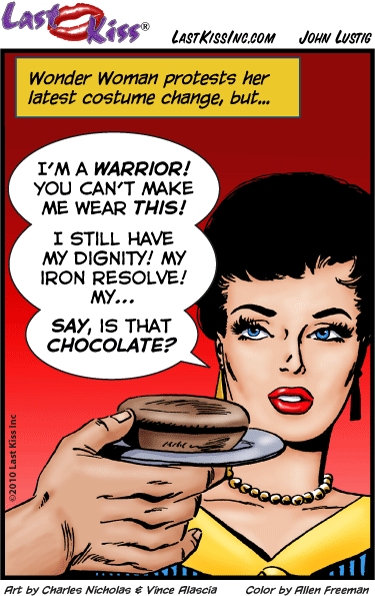 This is the first of two images that I did for this year's Wonder Woman Day (Oct. 24, 2010) auction–benefiting shelters for victims of domestic violence.
I double-matted and signed the print. No other copies will be offered for sale anywhere. So if you want it, bid on it quick! (The auction version does not include my logo or the art credit. At the bottom it simply says "Wonder Woman Day 2010.")
A live auction will be taking place Oct. 24 at Comics Fusion in Flemington, NJ. But you can submit a proxy bid via e-mail through Oct. 23.
On Wednesday, I'll be posting my contribution (another Wonder Woman print) for the West Coast (Portland, OR) version of the auction which also benefits domestic violence victims.
There are many wonderful pieces of art being offered for this benefit. I encourage you to check them all out here!
↓ Transcript
SCENE: Woman is being offered a chocolate doughnut by someone off panel.

CAPTION: Wonder Woman protests her latest costume change, but...

WOMAN: I'm a warrior! You can't make me wear this! I still have my dignity! My iron resolve! My…Say, is that chocolate?

8.3.2.2.