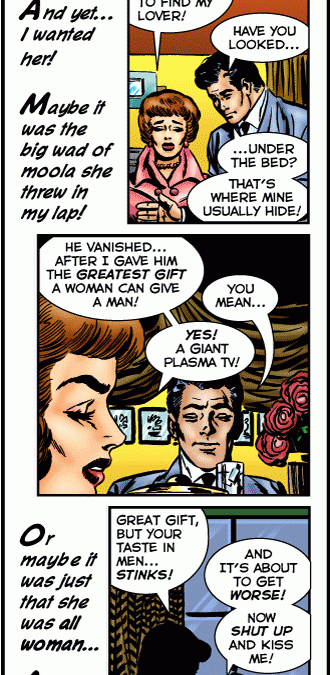 Sometimes a joke takes root and won't die. Then weird things happen…and characters like today's Vixen Von Tramp are born.
Ms. Von Tramp (and her entire clan) were conceived over on gocomics.com/lastkiss when one of my readers–the impressively monikered "LordDogmore"–suggested that one of my less chaste female characters was "a member of that singing group "The Von Tramp" family. The play on the "Von Trapp" family of "The Sound of Music" tickled my silly bone. And apparently it did the same for other GoComics regulars because ever since then we've been making jokes about the Von Tramps.
Until today, though, none of my comics officially mentioned any of the Von Tramps by name. So, I take great pleasure in presenting a member of the clan Von Tramp. I'm sure we'll meet more of them in the future. Thanks, LordD!