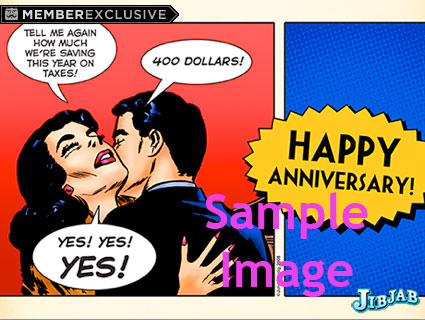 Last Kiss comics are now available as e-cards through JibJab.com–the premier website for electronic cards, animations, and videos, with more than three million unique monthly visitors.
"We are thrilled to work with Last Kiss", said JibJab co-founder Evan Spiridellis.  "Their unique library of high quality content was perfectly adapted to JibJab eCard line."
Like many of the images and videos on the site, the Last Kiss e-cards are "member exclusives." A year's subscription allows you  the ability to send an unlimited number of JibJab e-card images and videos.
To view or send the Last Kiss e-cards, click on the following links:
ANNIVERSARY
•Taxes are Sexy
•Enjoying the Little Things
•Marriage Anniversary
•Wedding Bells Anniversary
BIRTHDAY
•Ice Cream Birthday
•Happy Dentist Birthday
•The Perfect Birthday
•Crying on the Birthday
•Birthday Suit
•Happy Birthday Lies
DIVORCE
•Shark and Man
FUN
•Contraception!
•Happy Honeymoon!
GET WELL
•Get Well Soon from the Dentist
•Get Well Soon
LOVE, KISSES & FLIRTS
•Football Friends
•Take Out Hugs
•I Do It For You
SPECIAL OCCASIONS
•Why the BA?
VALENTINES
•I Like It Rough
•Dirty Socks