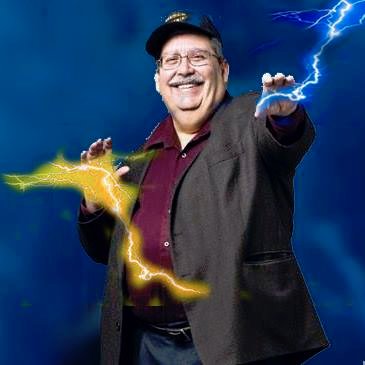 Please join me in saying Happy Birthday to frequent Last Kiss contributor and living legend Tony Isabella. He turns 70 on Dec. 22!
Tony must've started writing comics when he was a mere embryo because 70 years doesn't seem long enough for his impressive list of credits. He's worked for every major comic book company and been an innovator in this business (whenever his publishers have been wise enough to let him.)
I'm a longtime fan of his work (and his sense of humor.) So I'm thrilled to have him help write Last Kiss.
Although today's gag wasn't written by Tony, I'll be posting two of his Last Kiss comics next week. Thanks, Tony!
Black Lightning creator Tony Isabella
Transcript:
SCENE: Cat looking up at a Christmas tree.
CAT: This year I'm reaching the top…in one leap! Christmas Star…you're mine!
Photo: Laura Adai on Unsplash
Dialogue: John Lustig
laura-adai-uExeZhDV71Y-unsplash
↓ Transcript
SCENE: Cat looking up at a Christmas tree.

CAT: This year I'm reaching the top...in one leap! Christmas Star…you're mine!

Photo: Laura Adai on Unsplash
Dialogue: John Lustig

laura-adai-uExeZhDV71Y-unsplash