I'm tickled, thrilled and totally stoked to welcome Diego Jourdan Pereira to the Last Kiss team of terrific artists. In addition to coloring for me, Diego is going to be creating "new" vintage romance comic art.
In most cases this means Diego is going to be taking an old piece of romance comic book art and redrawing (or as he calls it "restoring") it.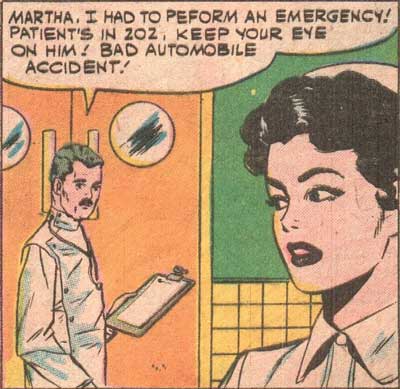 Diego's extensive resume includes work for Simon & Schuster, IDW Publishing, Nickelodeon, Mirage Studios and Mad Magazine (Australia) among many others.
Originally from Montevideo, Uruguay, Diego is definitely my longest distance contributor. He now lives in Santiago de Chile, Chile.
I must admit that I'm a little stunned to be working on Last Kiss with such great artists. (The other two, of course, are the amazing Allen Freeman and the dynamic Dan McConnell.)
When I started Last Kiss in 1996, I briefly hired someone to help me clean up the art and do the lettering. (Mostly because I didn't know how to use Photoshop.) But after that I spent years doing everything myself.
And now, oh my! I've got three terrific artists!
↓ Transcript
SCENE: Doctor talking to a nurse.

DOCTOR: No! I said, the patient is allergic to latex! Not sex!

NURSE (thinking): So…maybe I didn't kill him!

Original art: Vince Colletta
Restoration & color: Diego Jourdan Pereira