Happy St. Patrick's Day? Today? Absolutely!
Yeah. Yeah. I know Friday's the actual holiday. But "The Loves of Abby Amour" mini-serial is running on Fridays. So, we're celebrating the St. Paddy's two days early! Or rather we're starting to celebrate it two days early. I personally plan to still be celebrating on St. Pat's Day since it's also Shelagh's and my wedding anniversary.
Original Vintage Art & Text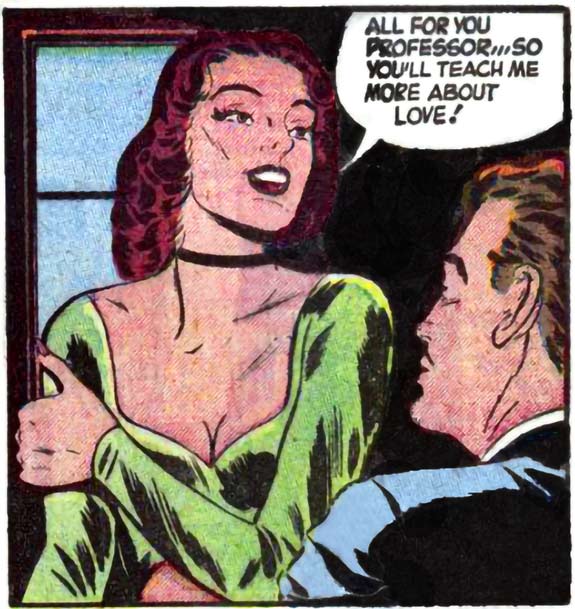 Art by William Tewkesbury from "Private Affair" in ALL TRUE ROMANCE #19, 1954. Published by Comic Media.
Curious to see more? Click this link to read the entire vintage comic book for free. This panel is from Page 21 of ComicBookPlus.com's presentation of the comic. The story begins on Page 19.
↓ Transcript
SCENE: Beautiful woman wearing a purple dress or top is talking to a leprechaun. She has one hand on her shoulder as if she'd just been pinched.

WOMAN: Hey! Don't pinch me! I'm wearing green underwear!

LEPRECHAUN: Prove it!

1954 Art: William Tewkesbury Color: M. Pascale & D. Jourdan Pereira
Thong Squad: Mike Pascale & John Lustig
Happy St. Patrick's Day!

DJP.lk273_StPats2018_MP