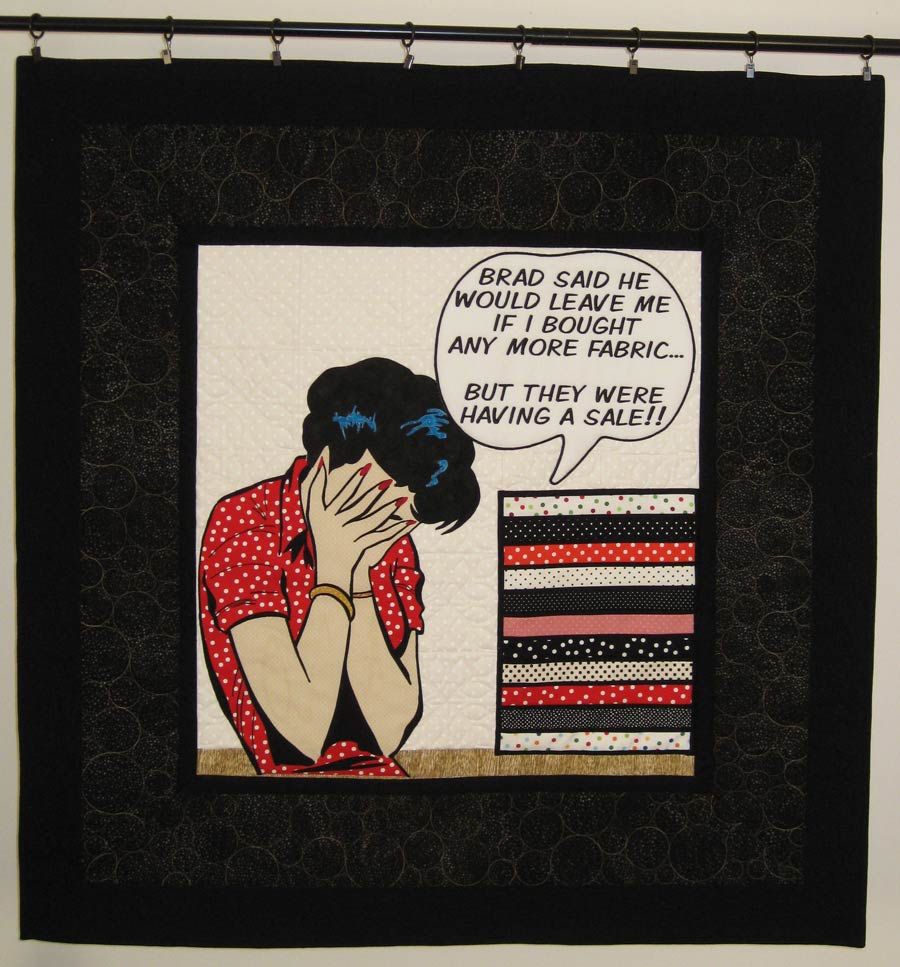 Last Kiss art has appeared on magnets, mugs and much more. But can it cut it as…a quilt?
Apparently so!
Thanks to the nimble fingers (and mind) of professional quilter Sue Bower, art from the Last Kiss archive has become a 44 x 45-inch piece of Americana wall art called "Dottie's Lament."
Completed in late January, "Dottie's Lament" has already been accepted for competition in two prestigious, juried shows:
—The Mid-Atlantic Quilt Festival (Feb. 25-28, 2016)
—MQX Quilt Festival—New England (April 6-9)
"The 2016 Mid-Atlantic Quilt Festival…has an entry category called 'Mid Century Modern,' said Sue. "Nothing says mid-century modern to me more than romance comics and Roy Lichtenstein's art, as I grew up in the 60s."

A Last Kiss fan, Sue contacted me in late 2015 and asked if she could use some of my source material—in this case a panel from FIRST KISS #20. I thought it sounded fun and sent her a high-res copy of the line art.
"My heroine's name and the dotted fabrics are in memory of my Mom—Dorothy (nicknamed 'Dot')—who actually allowed me to read a few romance comics!" explained Sue. "A common joke among quilters is that 'she who dies with the most fabric wins.'
"Dottie's lament is that Brad said he would leave her if she bought any more fabric.
"Instead of books on the shelf I <made> it look like several bolts of fabric."
Sue gave me a lot of detailed info on how she created the quilt. But perhaps I'll share that another time—say, after "Dottie" wins (I hope) an award or two at the upcoming shows.
Good luck, Sue—and Dottie!
—John Lustig