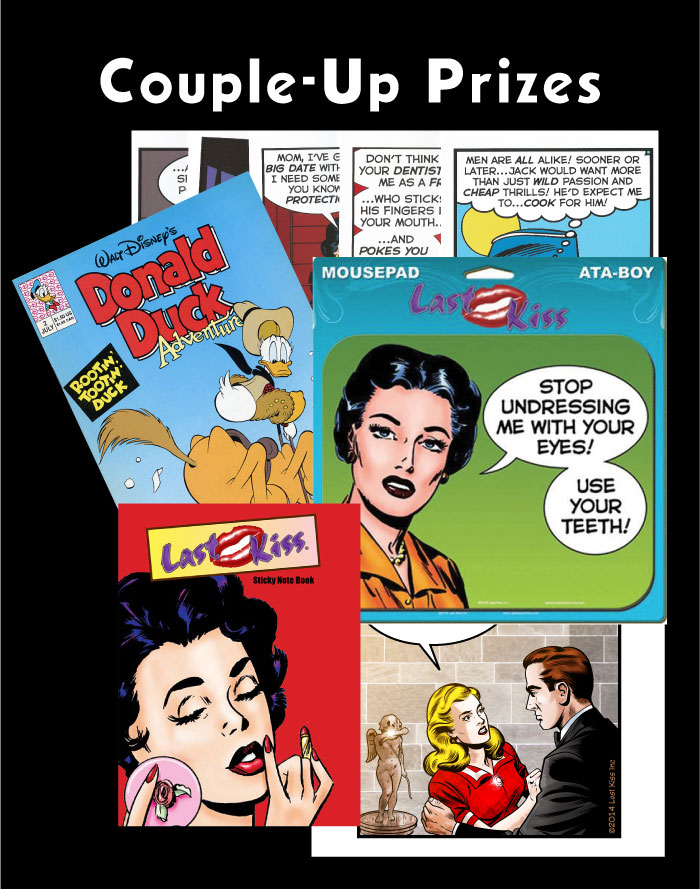 Be a funny Valentine. Enter the Last Kiss Couple-Up Contest.
To enter, write some hilarious dialogue for the woman in the contest art. (You can write dialogue for the man too, but it's optional.)
The Rules
Submit your dialogue as a comment on either the Last Kiss GoComics page or the Last Kiss Facebook page. Yes, you can enter more than once.

All entries must be in English.
Readers will vote to select the winner on each site. To vote on Facebook, click "like" for your favorite. On GoComics, simply comment saying which line of dialogue is your favorite. On each site, you can vote for up to three contest entries. (One vote per entry.)
The contest ends Feb. 17, 2014 at 10 a.m. PST. Winners will be announced Feb. 19. The winning entry for each site will be lettered and posted on those sites. The winner's name will be prominently displayed on the comic.
Prizes
In addition to instant fame, you will also receive a high-quality print of your winning comic autographed by William Van Horn and Last Kiss creator John Lustig; a Disney comic drawn by Van Horn and written by Lustig; a Last Kiss Sticky Notebook; 5 Last Kiss note cards; and a Last Kiss mouse pad.
If you don't live in the U.S. or Canada, you must pay shipping if you wish to have your prize mailed to you.
(Curious to see the winning entries from past Couple-Up contests? See 'em here!)
Read the (boring!) Legal Fine Print here.