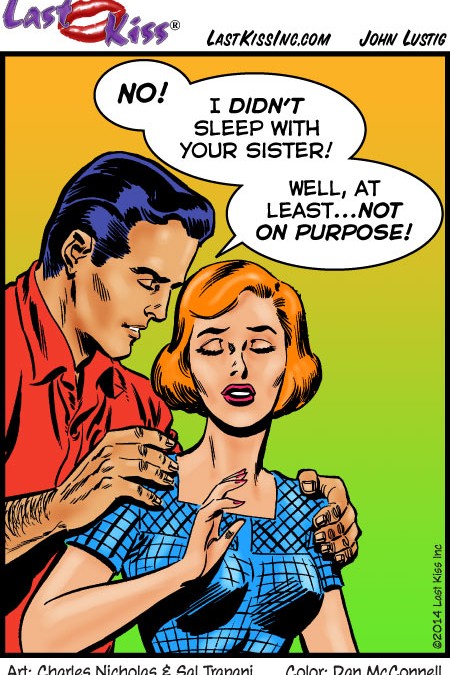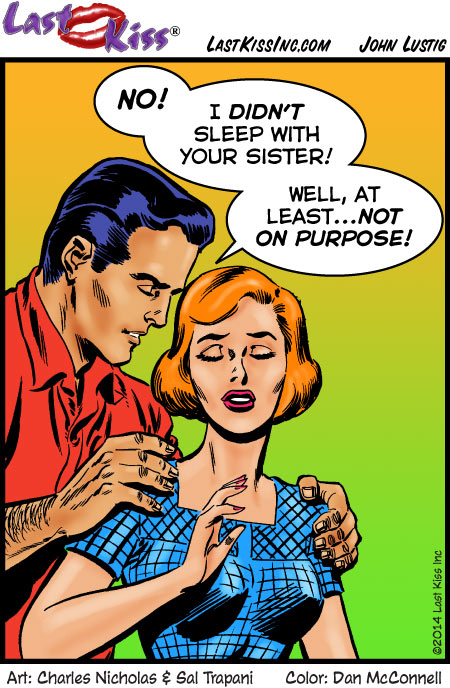 It's rare that I write a gag that actually makes me laugh out loud,
Most of the time I just smirk and think, "Well, that seems funny." Then I'll ask my wife. If she humors me and laughs at the gag, then I usually use it.
Occasionally, though, I over-analyze a joke. Is it really funny for the chicken (or the blonde) to cross the road? Would it be funnier to cross train tracks? How about if it's during a blizzard?
Last week I was stuck on this gag. Which punchline should I use? A thousand thanks to everyone on my Last Kiss Facebook page who helped me decide—and suggested some other neat gags.
And, yes, some of those suggestions did make me laugh out loud.
Meanwhile, back in 1957…
See the original 1957 art for today's Last Kiss webcomic here.
↓ Transcript
SCENE: Man talking to a woman.

MAN: No! I didn't sleep with your sister! Well, at least...not on purpose!

Art: Charles Nicholas & Sal Trapani Color: Dan McConnell
©2014 Last Kiss Inc

1.3.1.1