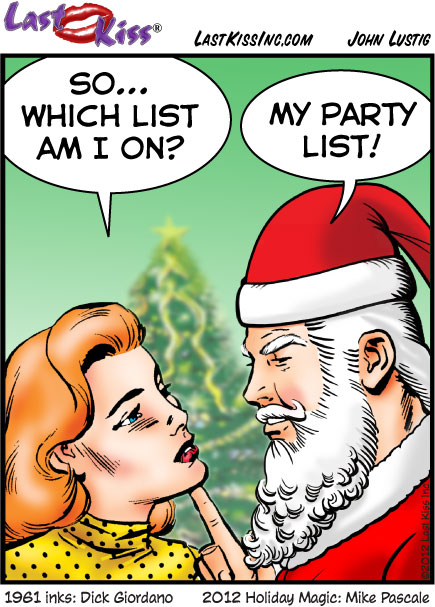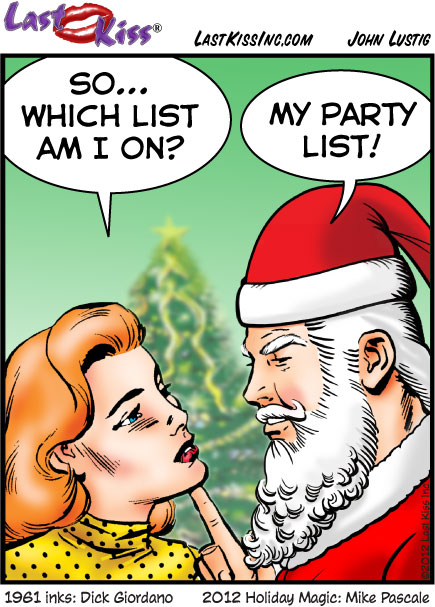 Anyone can get on Santa's Naughty or Nice List. Santa's Party List, however, is exclusive.
Kim Kardashian, Nancy Grace, the Octomom, most politicians and all of your in-laws are just a few of the billions of people who DON'T make Santa's Party List.
As a Last Kiss fan, however, you automatically qualify for Santa's guest list. (Plus a $2-discount at North Pole Valet Parking.)
Just remember to bring your own bottle (Santa prefers rum.) And watch out for the elves.
They've been working for 364 straight days. So they're horny and most of 'em are about as tall as your crotch.
Think about it. Or, better yet—try not to.
Happy holidays from me and magical Mike Pascale!
↓ Transcript
SCENE: Woman talking to Santa.
WOMAN: So…which list am I on?
SANTA: My party list!
1961 inks: Dick Giordano 2012 Holiday Magic: Mike Pascale
©2012 Last Kiss Inc