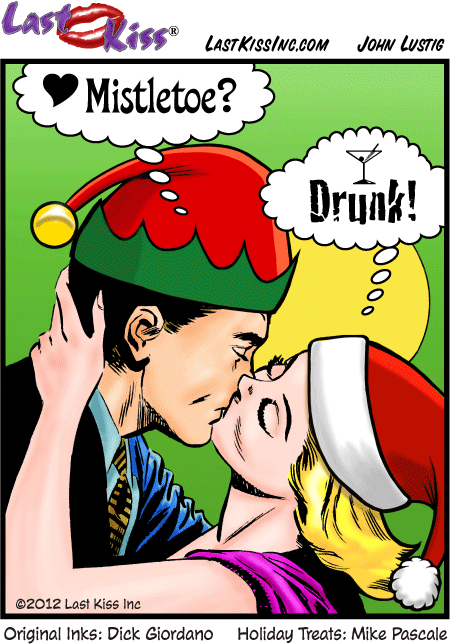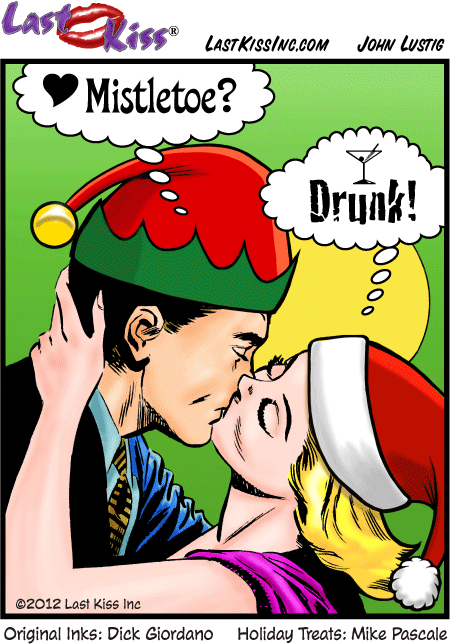 My favorite holiday tradition?
It could tell you that it's when my wife wears a Santa hat (other clothing optional) and belly dances to the tune of "Santa Baby" under the mistletoe in my office.
But I'd be lying because…hey, that hasn't happened—yet. (Shelagh, there's still time.)
But it you want something that's actually based in reality…
Then one of my favorite holiday traditions is when Mike Pascale takes my old romance art and transforms it into zanny Christmas-themed gags. Today's comic is the first of three 2012 Christmas comics from Mike.
Next up? A Christmas gag that's been 5,125 years in the making!
↓ Transcript
SCENE: Guy in an elf hat and a woman in a Santa hat are kissing.

MAN (thinking): Mistletoe?
WOMAN: (thinking): Drunk!
Original Inks: Dick Giordano Holiday Treats: Mike Pascale
©2012 Last Kiss Inc