How much merchandise will I have at my booth (#2302) at Comic-Con International?
A truckload of Last Kiss T-shirts. A mountain of Last Kiss tote bags. And a huge heap of other goodies such as Last Kiss sticky notebooks, art prints, mugs, magnets and more.
In short, a lot!
Even so, I can't take everything. So if you'd like any of the following wonderful things, contact me by this Saturday, July 7, 9 p.m. PDT. Otherwise, I may not be taking them to San Diego.
Last Kiss #2
My favorite issue (#2) from my Last Kiss comic book series. It's the "Dick Giordano issue" and it leads off with all-new Giordano art for "Widow Ms. Muffet" – the story of a little girl who wants to grow up and become a rich widow. The issue also features reprints of two Giordano stories from the 1950's-60's (with hilarious new dialogue by John Lustig). Plus an interview with Giordano about why doing romance comics is so difficult; the winning stories in the reader writing contest; and the ultimate story of amnesia, archeology and runaway lust "Remember to Forget Me" 48 pages of fun! Cover by Giordano.
I only have a few copies left. $14. (Autographs free.) E-mail me here.
The Virgin Project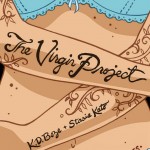 Creators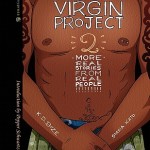 Kevin Boze and Stasia Kato often sell copies of The Virgin Project at my booth. They're not coming this year, but if you want a signed copy (by Kevin) at a great price $17 for either Volume 1 or Volume 2. $30 for the set. I can't recommend these books highly enough. It's absolutely amazing stuff—true tales, told as short comic book stories. Some of these are hilarious. Some of them of them are horrifying. You can read more  about VP, Vol. 1 and Vol. 2 on Amazon. On Amazon they sell for $22.95 each. So this is a great chance to pick up autographed copies. E-mail me here.

Disney Comics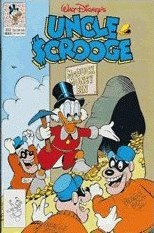 I've written lots of Donald Duck, Uncle Scrooge and even a few Mickey Mouse comics over the year. I'll have a few with me in San Diego, but if you want to make sure I hold some for you or you want a specific issue let me know. Prices vary. E-mail me here.

Marvel Romance Redux
What if Marvel Comics published Last Kiss? Well, it'd probably be something like this. This anthology series featured Marvel writer re-dialoging old Marvel romance comics for laughs. I was one of the the writers on three of the five issues. $3 each. Autographed free. E-mail me here.
Ultra Maniac Graphic Novels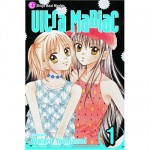 This is a bit of an oddity, but I'm really proud of my part in it. Viz published Wataru Yoshizumi's Ultra Maniac  magical girl storyline in five graphic novels. I was given the bare bones English translation and hired to rewrite so it sounded good.
It wasn't hard. It's a fun series and my editor gave me a fairly free hand in adding in extra jokes.
The first book is a little slow, but after that it's just wild, wacky stuff.
The individual books sell for$8.99 on Amazon. I'm selling autographed copies for $7.50. Buy a set of all 5 books for $30. (See review below.) E-mail me here.
Review and Summary of Ultra Maniac from Publishers Weekly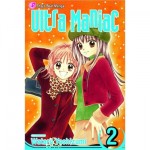 Tennis star Ayu Tateishi is the junior high school's "queen of cool," and she has her eye on Tetsushi Kaji, the star of the baseball team. All is well with her world, until she unwittingly helps out novice witch Nina Sakura, who then feels compelled to do her magical favors whenever she can. Nina has a "portable magic PC" with which she can download spells (and some cool MP3s) from the Internet. What she doesn't have is much experience with witchcraft—so her attempts to help Ayu result in predictably wacky hijinks. This first attempt at fantasy manga by Yoshizumi (Marmalade Boy; Mintma Bokura) is charming and good-natured. Her art is clean and uses the standard manga conventions, such as schoolgirl uniforms, to good effect. The storytelling occasionally veers into the cutesy—Yoshizumi uses chibi (cuter versions of the characters) regularly to telegraph jokes, and peppers her chapters with "Free Talk"—footnotes to the reader revealing facts like "I think the thing that has changed most about my art is that I'm drawing a lot more eyelashes"). Given the teen audience this work is aimed at, the breathless dialogue and unselfconscious goofiness simply add to the charm, and this book will likely be ultra-popular with the manga crowd. (July)
Copyright © Reed Business Information, a division of Reed Elsevier Inc. All rights reserved.