My thanks to guest writer Tony Isabella for the great gag…and never showing me any of his tattoos. (If he has any.)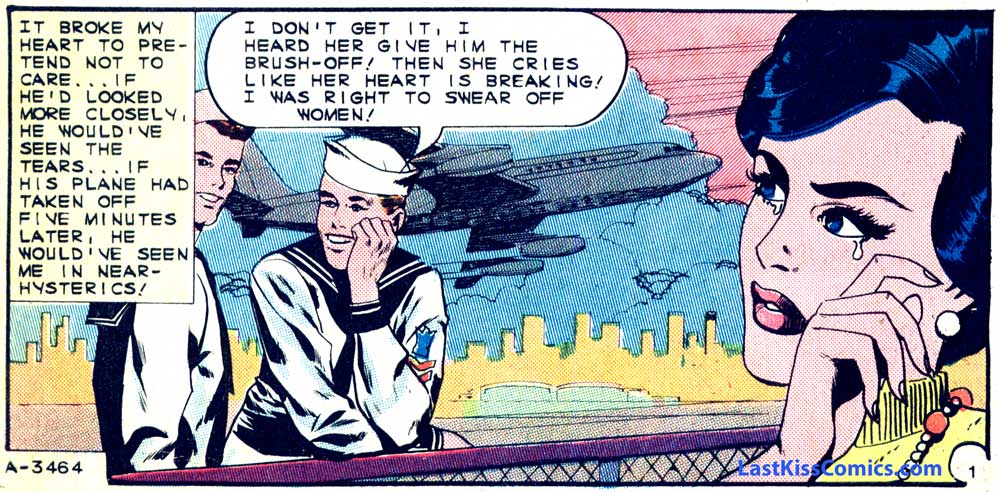 Art by Vince Colletta Studio from the story "I Chose Heartbreak" in FIRST KISS #37, 1964.
Transcript:
SCENE: Woman with a tattoo of a black teardrop below one eye is standing outside in the rain.
WOMAN: I thought Blaine would be turned on by my stylish teardrop tattoos. But, instead…he seems terrified of me!
1964 Art: Vince Colletta Studio Color: Diego Jourdan Pereira
Guest Writer & Prison Tattoo Artist: Tony Isabella
DJP.lk388 FK37.1.1.2Color-Corrected
↓ Transcript
SCENE: Woman with a tattoo of a black teardrop below one eye is standing outside in the rain.

WOMAN: I thought Blaine would be turned on by my stylish teardrop tattoos. But, instead...he seems terrified of me!

1964 Art: Vince Colletta Studio Color: Diego Jourdan Pereira
Guest Writer & Prison Tattoo Artist: Tony Isabella

DJP.lk388 FK37.1.1.2Color-Corrected