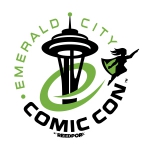 If you're attending Seattle's Emerald City Comic Con this weekend, please consider dropping by Northwest Press' booth #2210. Publisher Zan Christensen is selling quite a few Last Kiss fridge magnets (many, but not all with an LGBTQ theme) and a few Last Kiss tote bags.
NW Press publishes books primarily LGBTQ-themed or by members of the LGBTQ community. But there's great stuff there no matter what your sexual orientation or status.
Original Vintage Art & Text
Transcript:
SCENE: Woman and man having drinks and something to eat (dessert?) They are staring into each other's eyes. The woman is smiling.
WOMAN: I'm a glass half full, bed half empty sorta gal!
1964 Art: Vince Colletta Studio Color: Allen Freeman Dialogue: John Lustig
39.3.6.3
↓ Transcript
SCENE: Woman and man having drinks and something to eat (dessert?) They are staring into each other's eyes. The woman is smiling.

WOMAN: I'm a glass half full, bed half empty sorta gal!

1964 Art: Vince Colletta Studio Color: Allen Freeman Dialogue: John Lustig

39.3.6.3