Alternative Version:
In the process of dreaming up dialogue, I often go through a number of versions and revisions. Sometimes I even letter a version and then change my mind.
I thought readers might find it interesting to see the dialogue that I almost used for this art. It's always a struggle  to know which version is best!
(NOTE: In the initial version, I hadn't added the Ukrainian flag yet.)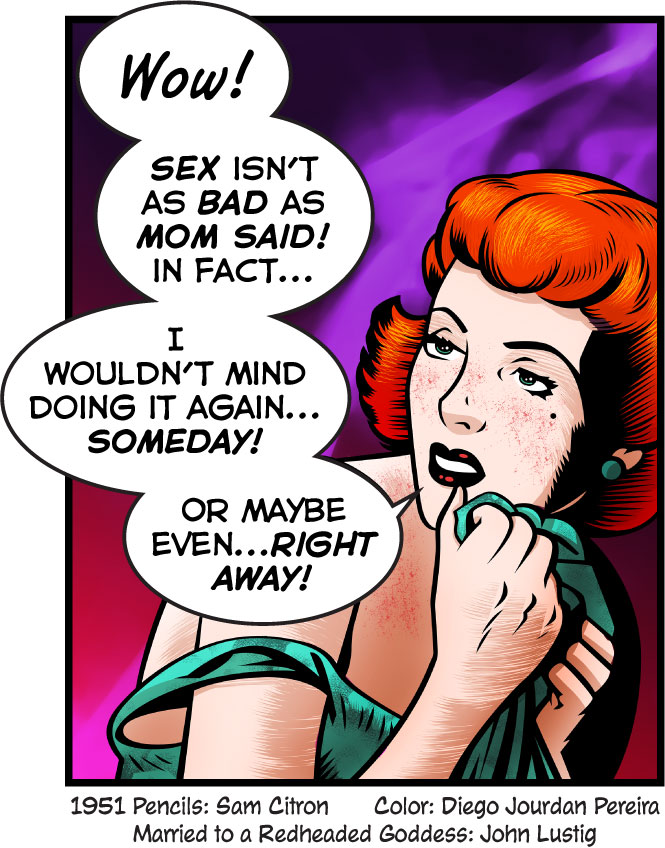 Original Vintage Art & Text
Transcript:
SCENE: Woman in a nightgown who is holding up the hem of the garment to her chin. She is looking and talking to someone off panel. It's hard to judge her emotion, but she looks a bit disturbed.
WOMAN: OMG! That was kinky, filthy and disgusting! How soon can we do it again?
1951 Pencils: Sam Citron Re-Creation: Diego Jourdan Pereira
Married to a Redheaded Goddess: John Lustig
DJP.lk156
↓ Transcript
SCENE: Woman in a nightgown who is holding up the hem of the garment to her chin. She is looking and talking to someone off panel. It's hard to judge her emotion, but she looks a bit disturbed.

WOMAN: OMG! That was kinky, filthy and disgusting! How soon can we do it again?

1951 Pencils: Sam Citron Re-Creation: Diego Jourdan Pereira
Married to a Redheaded Goddess: John Lustig

DJP.lk156