Last Kiss had a cameo on The Big Bang Theory—again!
A Last Kiss tote bag was shown several times in kitchen scenes during the season premier (Monday, Sept. 21.)
Prior to this, it (along with a Last Kiss zombie poster) appeared in last season's finale.
"It was great to see the tote bag on the show again," said Last Kiss creator John Lustig. "John Fluke—whose business Placed4Success got Last Kiss on The Big Bang Theory last season—didn't think the tote bag would still be on the set this season. So I was very pleasantly surprised!"
(The More Caffeine tote bag is now available here on Etsy.)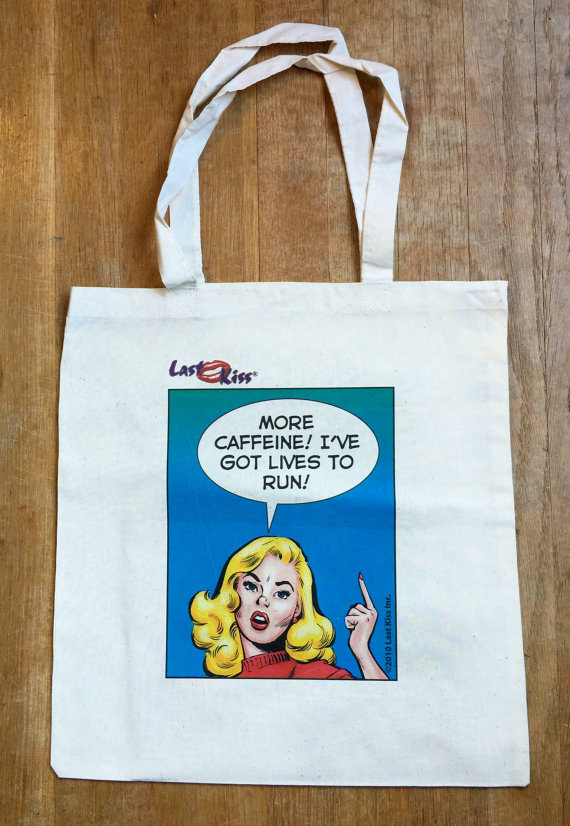 "With the bag in the premier episode," said Lustig,  "there's a really good chance that it'll show up throughout the rest of the season. Now I'll be watching to see if that Last Kiss zombie poster shows up in episodes as well." (Look for it in scenes in the show's comic book set.)
"I'm a big fan of the show," said Lustig. "Oddly enough, I only got into watching it in when I was taking care of my mother during the last year of her life. She loved it and I started watching it with her.
"So, having Last Kiss show up on The Big Bang Theory has extra meaning for me. I think Mom would've been thrilled and proud for me."