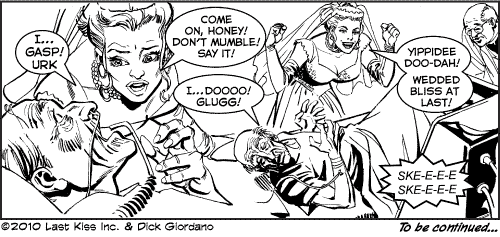 Kansas City, Mo. and Seattle, Wa. (May 13, 2010) – Last Kiss creator John Lustig is paying tribute to comics legend Dick Giordano with a special three-week sequence of his Last Kiss webcomic.
Starting May 17, the series will begin appearing six times a week instead of the usual three at both GoComics.com/lastkiss and lastkisscomic.com. Instead of his regular one-panel gags, Lustig will feature a multi-episode Last Kiss story which he and Giordano created together, entitled "Widow Miss Muffet."
The "Widow" storyline will appear Monday through Friday. On Sundays, Last Kiss will feature special, standalone comics unrelated to "Widow," but featuring Giordano art. The "Widow" story will wrap up on June 4.
"Dick drew 'Widow' for my Last Kiss comic book series and it hasn't been reprinted since it appeared in 2001," said Lustig. "For Dick it was a chance to have fun—returning to his romance comic roots. And it was a funny romance story—which I think was a first for him.
"It's the story of a little girl who wants to grow up and become a rich widow. Of course, things don't go quite as planned."

In some ways, the story was a first for Lustig as well. Prior to "Widow", Lustig had always used old romance comic art and re-written the dialogue for his humor series. "Widow" was the first time art was drawn specifically for Last Kiss.
"Dick played a key role in the early development of Last Kiss," said Lustig. "In addition to drawing 'Widow", he provided me with lots of encouragement and advice.
"All the Last Kiss comic books featured Dick Giordano covers. The second issue of the series was officially dubbed 'The Dick Giordano" issue—featuring a Giordano interview; the first appearance of "Widow"; and humorous re-dialoging of two of Dick's old romance stories."
Lustig's interview with Giordano is now available at lastkisscomic.com.
After Giordano passed away on March 27, Lustig decided that serializing "Widow" as part of his webcomic would be a nice way to pay tribute to his friend.
"I contacted Michael Eury, who wrote Dick's biography (Dick Giordano: Changing Comics, One Day at a Time), and he gave me permission to use some short quotes from the book," said Lustig. "I'll be posting these on my site each day as part of the tribute. There may be other material as well. I'm still gathering things together."
Giordano had a huge impact on the comics business, according to Lustig. "He wasn't someone given to boasts, but he was widely regarded by other professionals as one of the greatest inkers in comics. He was certainly one of the most influential editors in DC Comics history. Best of all, he was also one of the nicest guys in comics."
Links:
Main Last Kiss site:
https://www.lastkisscomics.com/
Giordano interview:
https://www.lastkisscomics.com/2010/03/27/dick-giordano-explains-why-romance-is-so-difficult-in-comics/
Last Kiss on GoComics.com (GoComics is owned and operated by Universal Uclick)
http://www.gocomics.com/lastkiss
About Universal Uclick
Universal Uclick is the largest independent syndicate in the world and a leading digital entertainment provider of humor, comic strips, editorial cartoons, and other content for print, desktop, web and mobile phones. Universal Uclick provides editorial development, licensing and other distribution services for major brands like Doonesbury, Dear Abby and some of the most significant comics in history including Calvin and Hobbes, The Far Side, Garfield, For Better or For Worse, Cathy, and Ziggy as well as recent hits Lio, Cul de Sac and The Argyle Sweater. Universal Uclick is a division of Andrews McMeel Universal, the leading publisher of humor books and calendars in North America.