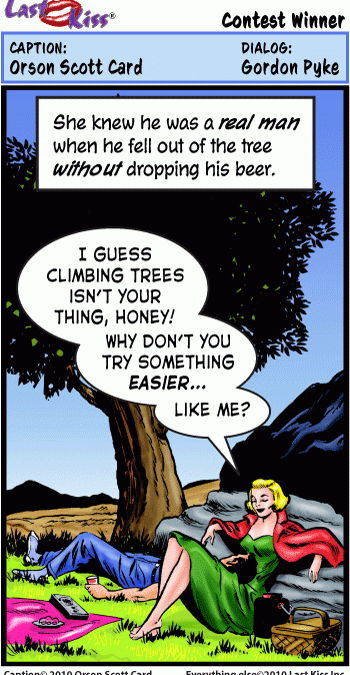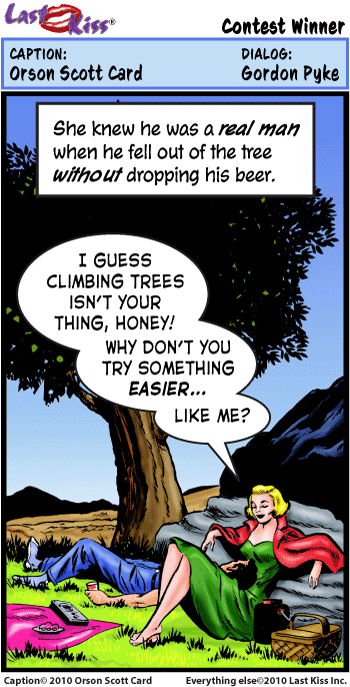 Congratulations to winner Gordon Pyke (and to everyone who took part in the contest.)
Second Place honors went to Jeff Willis for his submission: MAN: I feel faint. WOMAN: You should put your head between my knees.
Third Place bragging rights went to Gale Grove for the following dialog: MAN (thinking): I knew that she was a real women when she opened the beer with her tongue.
Special thanks to Orson Scott Card for writing the opening caption and setting the scene for the contest comic.
There were lots of great submissions that didn't win prizes, but that are well worth reading. Some of my favorites are here.
↓ Transcript
Caption by Orson Scott Card
Dialog by Gordon Pyke

SCENE: A man and woman are picnicking below a tree. The man is on his back and has his head is in the woman's lap. He's holding a beverage in one hand. The woman smiles and looks down at him.

CAPTION: She knew he was a real man when he fell out of the tree without dropping his beer.

WOMAN: I guess climbing trees isn't your thing, honey! Why don't you try something easier…like me?