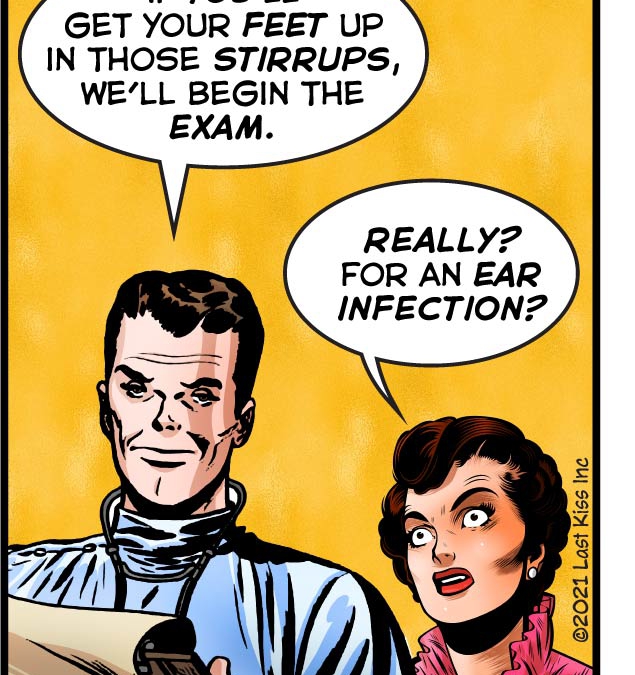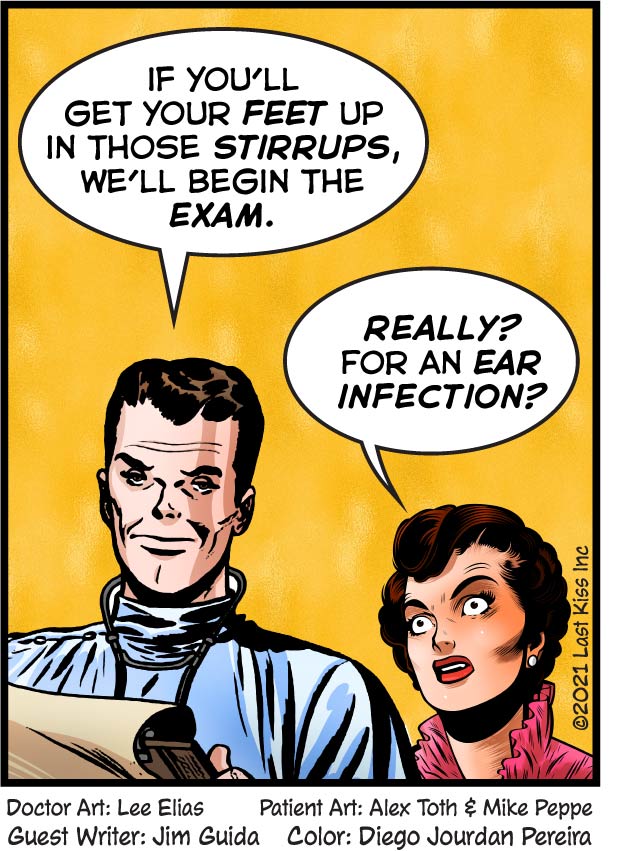 Huge kudos to long-time Last Kiss fan (and life-long wit) Jim Guida for today's gag. Jim has written the dialogue for several Last Kiss gags now. And I'm happy to say that I suspect there will be more.
Although I've got a lot of doctor art in my archive, I didn't have anything that quite fit my needs for this gag. So, I ended up putting together characters from two different stories. Unfortunately, they're by two artists with very different styles. So, the art's not as seamless as I'd like. But the reaction from the woman is perfect for the joke. So, I went with it!
Original Vintage Art & Text
Transcript:
SCENE: A male doctor is talking to his patient. In the background the patient (a woman) reacts with pop-eyed incredulity.
DOC: if you'll
get your feet up in those stirrups, we'll begin the exam.
WOMAN: Really? For an ear infection?
Doctor Art: Lee Elias Patient Art: Alex Toth & Mike Peppe
Guest Writer: Jim Guida Color: Diego Jourdan Pereira
DJP.lk472&217
↓ Transcript
SCENE: A male doctor is talking to his patient. In the background the patient (a woman) reacts with pop-eyed incredulity.



DOC: if you'll
get your feet up in those stirrups, we'll begin the exam.

WOMAN: Really? For an ear infection?

Doctor Art: Lee Elias Patient Art: Alex Toth & Mike Peppe

Guest Writer: Jim Guida Color: Diego Jourdan Pereira

DJP.lk472&217