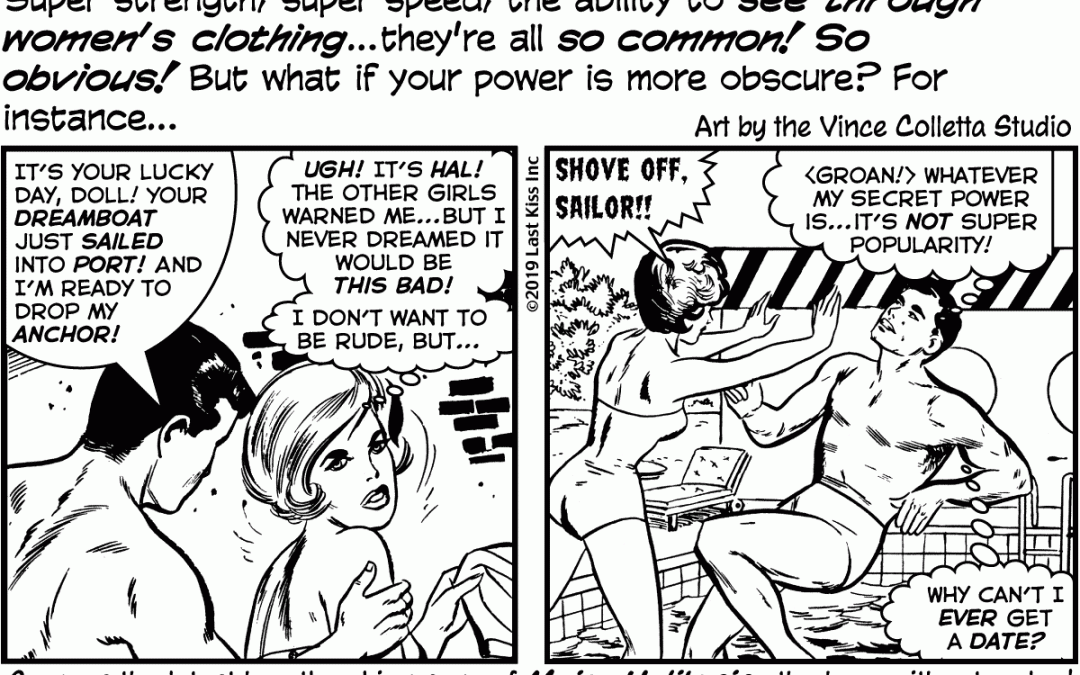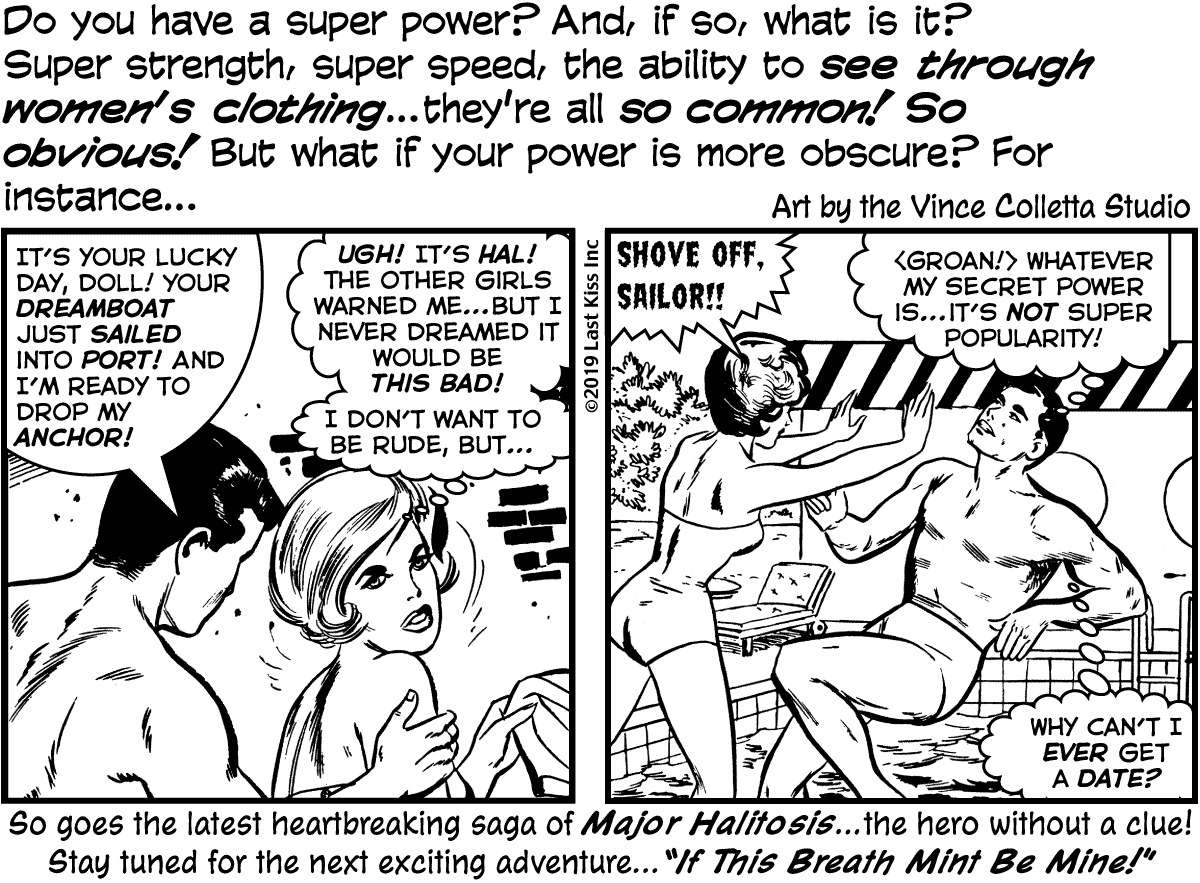 Transcript:
CAPTION: Do you have a super power? And, if so, what is it?
Super strength, super speed, the ability to see through women's clothing…they're all so common! So obvious! But what if your power is more obscure? For instance…
SCENE, Panel 1: A man and a woman are in their bathing suits next to a swimming pool. The man grasps the woman's shoulder.
MAN: It's your lucky day, doll! Your dreamboat just sailed into port! And I'm ready to drop my anchor!
WOMAN (thinking): Ugh! It's Hal! The other girls warned me…but I never dreamed it would be this bad! I don't want to be rude, but…
SCENE, Panel 2: Woman pushes man into the swimming pool.
WOMAN: Shove off, sailor!
MAN (thinking): <Groan!> Whatever my secret power is…it's not super popularity! Why can't I ever get
a date?
CAPTION: So goes the latest heartbreaking saga of Major Halitosis…the hero without a clue!
Stay tuned for the next exciting adventure…"If This Breath Mint Be Mine!"
Art by the Vince Colletta Studio
32.3.5
↓ Transcript
CAPTION: Do you have a super power? And, if so, what is it?
Super strength, super speed, the ability to see through women's clothing…they're all so common! So obvious! But what if your power is more obscure? For instance…

SCENE, Panel 1: A man and a woman are in their bathing suits next to a swimming pool. The man grasps the woman's shoulder.

MAN: It's your lucky day, doll! Your dreamboat just sailed into port! And I'm ready to drop my anchor!

WOMAN (thinking): Ugh! It's Hal! The other girls warned me…but I never dreamed it would be this bad! I don't want to be rude, but…


SCENE, Panel 2: Woman pushes man into the swimming pool.

WOMAN: Shove off, sailor!

MAN (thinking): <Groan!> Whatever my secret power is…it's not super popularity! Why can't I ever get
a date?

CAPTION: So goes the latest heartbreaking saga of Major Halitosis…the hero without a clue!
Stay tuned for the next exciting adventure..."If This Breath Mint Be Mine!"

Art by the Vince Colletta Studio

32.3.5