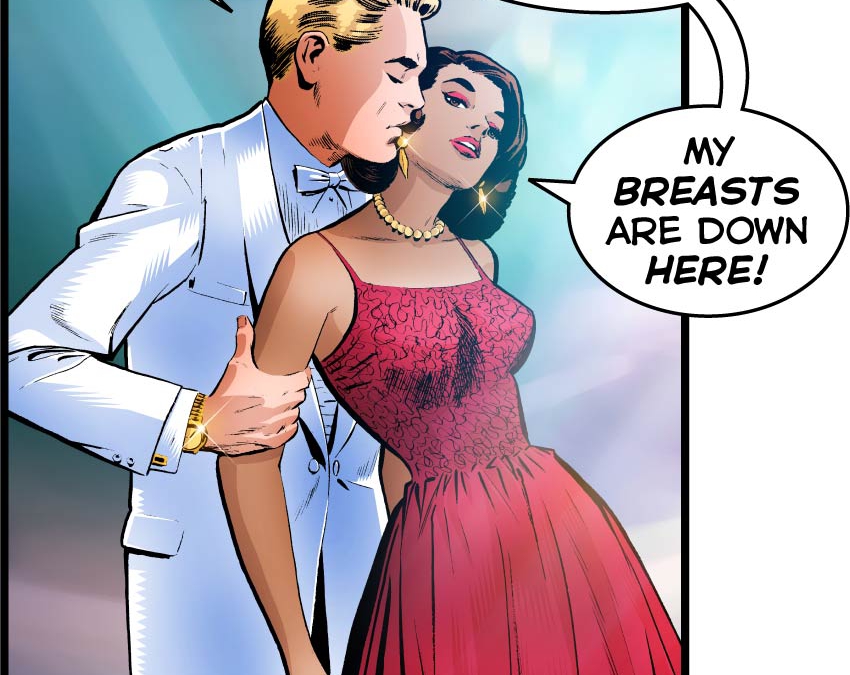 More Last Kiss fun from Black Lightning creator Tony Isabella.
If you have trouble reading the text of the original art, I've typed it out below the image.
Original Dialogue: Please don't, Hurd! I can't love you! I've got Belinda to think of…her happiness MUST come before mine!
Transcript:
SCENE: Man is behind a woman, holding one of her upper arms as he whispers sweet nothings in her ears.
MAN: MMMM…
WOMAN: Open your eyes, Chadsworth…My breasts are down here!
1963 Art: Dick Giordano Color: Diego Jourdan Pereira
Guest Writer Tony Isabella
DJP.lk537
↓ Transcript
SCENE: Man is behind a woman, holding one of her upper arms as he whispers sweet nothings in her ears.

MAN: MMMM...

WOMAN: Open your eyes, Chadsworth...My breasts are down here!

1963 Art: Dick Giordano Color: Diego Jourdan Pereira
Guest Writer Tony Isabella

DJP.lk537