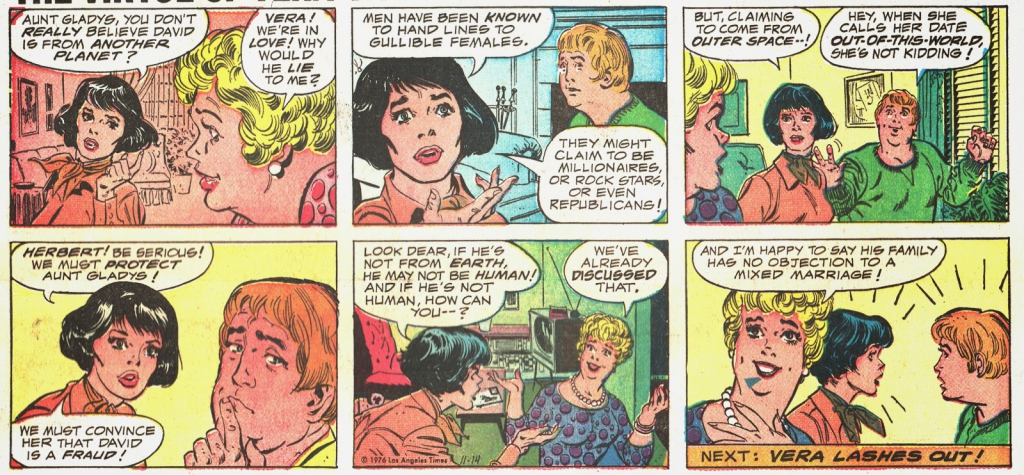 I only met Stan Lee once.
I was at the San Diego Comic-Con years ago and I spotted my friend John Petty and went over to say "Howdy." It turned out John was with Larry Lieber—Stan Lee's brother as well being a long-time Marvel artist. So, I'm talking to them and I said that I'd be interested in interviewing Larry sometime. And Stan spots us and walks over to chat.
I'm still a little dumbfounded by this. (Imagine a time when Stan Lee could walk the convention floor—without a security detail—and not be mobbed by fans!) It was one of those weird and wonderful things that used to happen at the con. (Weird and wonderful things still happen there, but not quite as often. And sadly bumping into Stan won't be one of them.)
Stan was every bit as charming and friendly as he you'd hope. So, after a couple of minutes I get up the nerve to mention that I do a funny romance series called Last Kiss. And then I add that I'd recently discovered the tongue-in-cheek romance comic strip The Virtue of Vera Valiant that Stan and artist Frank Springer did in the 1970s. Obviously inspired by the TV show Mary Hartman, Mary Hartman, it was over-the-top soap opera. Although it varied in quality, at it's best it was pretty darn funny.
It seemed perfect for Last Kiss fans and I wanted to introduce them to this mostly forgotten series. So I asked if I could reprint a few panels in my next issue of Last Kiss. Stan said, sure. So, I was thrilled. (I was gonna publish (sorta!) Stan Lee!!!
Not knowing how to contact Stan (or Larry)—and being too shy to ask for their contact info— I said that I'd send John Petty copies. (My thinking was that John seemed to know both of Stan and Larry that he could pass copies onto them.) Before I could explain, Stan chips in with something along the lines of "What am I chicken soup? I want a copy too."
Unfortunately, I never published a fifth issue of Last Kiss. So, this blog post showing of Vera Valiant will have to do for now. Stan, I assume you have heavenly access to the Internet. And that the connection is very, very fast!